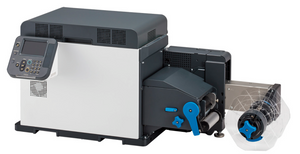 Intoprint RP Series Digital Label Printer
The Intoprint RP530W Label Printer helps businesses produce versatile, professional labels that capture maximum impact. Perfect for on demand, high quality label printing, The Intoprint RP530W Label Printer is easy to set up and requires minimal training to use. With the unique ability to print in 5 colours (CMYK+White), the RP530W provides users the enhanced flexibility that comes from printing on transparent or colored label media.
The RP530W prints with CMYK+W. Using white as a fifth color allows much greater flexibility in the design of your printed labels. The white can be used as a background on transparent substrates, ideal for promotional and security labels placed on glass. White can also be used to create new exceptional designs on colored or metalized substrates which are difficult to print using other digital printing technologies. Producing labels with a white typeface on a clear or colored background is unique for a printer of this size. You can ensure your messages come across loud and clear with white.
Flexible Short and Medium Custom Label Applications

Built to serve a wide range of print requirements, the RP530 printer delivers the best results every time. A true breakthrough in printing technology for the label industry, the RP530 has unrivaled media handling capability. Printing on a wider range of media is now much easier, and can include uncoated, glossy and textured papers, as well as synthetics with a wide range of substrates which can be clear, opaque, white or colored. The new RP530 opens the door to a range of label media that inkjet label printers simply cannot handle, enabling businesses to say "yes" to new creative ideas and complex print jobs.
Product Features
Color Options - RP530 (CMYK) or RP-530W CMYK+W)
Speed - Up to 30 feet/min
Media Types - Plain Paper, Film, Synthetic Film Label, PET
Resolution - Up to 1200 x 1200 dpi
Interface - Ethernet 10/100/1000 Base-T or USB 2.0
Media Width - 1" to 5.12"
Media Thickness (including liner) - 0.003 to 0.0098"
Max Print Width - 4.95"
Minimum Trim Length - 4"
Media Core Diameter - 3"
Equipment Dimension - 41" x 19" x 18"
Weight - 136.6 lbs
Software - Adobe Postscript 3, PCL 5c emulation, PCL6 (XL) emulation