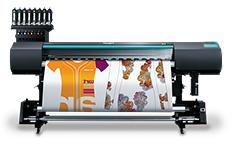 Texart XT-640 Dye-Sublimation Transfer Printer
---
---
The Perfect Sublimation Printing Solution

Developed specifically for dye-sublimation transfer printing, the Texart XT-640 is an unstoppable machine that delivers outstanding print quality on long print runs, day-after-day. By combining Roland DG reliability with the latest print technology, users can quickly and effortlessly create high-volume sportswear, fashion, soft signage, interior decoration, promotional merchandise and much more..
A Perfect Balance of Productivity and Quality
With its rugged construction and dual-print heads, the XT-640 Dye-Sublimation Printer is built to meet the most demanding production and quality requirements. It provides machine stability, a choice of ink configurations, including Fluorescent Pink (Fp) and Fluorescent Yellow (Fy), and is one of the fastest dye-sublimation printers on the market. Equipped with automatic ink-switching and iPad printer assist features, it also supports unattended printing on long print runs, even in high-speed modes.
Distinguishing Features
Durable and lasting build quality for long print runs and non-stop production
Dual-print heads increase production speed and maximize color quality with 7-droplet technology
4-color high-speed printing or 8-color printing for wider color gamut and smooth color gradients
Roland DG Fluor Color Library offers hundreds of new colors with new Fluorescent Pink and Yellow inks
Automatic ink-switching and iPad printer assist for unattended printing
Error-free media alignment with new feed adjuster, take-up system and powerful vacuum
Print Error-Free with Advanced New Features
The XT-640 offers exceptional media tracking to prevent alignment errors during production. An advanced vacuum system keeps transfer paper flat for printing, while a convenient new feed adjuster and take-up system prevents media skewing and ensures a correctly wound roll for smooth transition to the heat transfer process.
Seven Droplet Print Heads Cover All the Details
The XT-640 Dye-Sublimation Printer features dual-staggered print heads to maximize productivity. Each Piezo inkjet print head has 8-channels containing 180 nozzles with seven different dot sizes. This allows the XT-640 to achieve smoother gradations, finer details and richer color density for photographic quality graphics and high-resolution vector output.
More Choice with 4-Color or 8-Color Ink Modes
In 4-color (CMYK) high-speed print mode, the XT-640 is fast and efficient, producing fine details and deep color contrast. In an 8-color configuration (CMYK+LcLmOrVi / CMYK+OrViFpFy), the XT-640 delivers an extremely wide color gamut with Orange, Violet, Light Cyan, Light Magenta, Fluorescent Pink and Fluorescent Yellow inks. In 8-color set-up, users have the ability to reproduce Pantone Solid Coated colors as well as having a vast choice of vibrant fluorescents and soft pastel shades.
Two-year warranty and unmatched reliability.
Roland DG has earned a worldwide reputation for building reliable machines and backing them up with unmatched customer service and technical support. The RT-640 is supplied with a Two-Year Trouble-Free Warranty and proudly displays all international ISO certifications as your confirmation of superior quality.
*Registration within 60 days purchase and continuous exclusive use of Roland inks during the first two years of ownership are required to qualify for the free second year of limited warranty coverage. See warranty page for details.